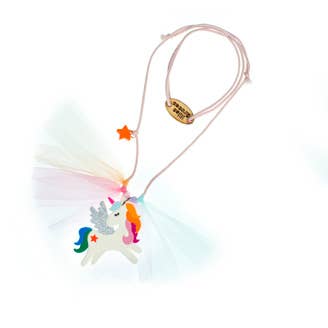 Unicorn Coral Glitter Wings Necklace
These  unicorn necklaces add glitter style to any outfit!
100% acrylic unicorns. Made in Brazil.
About Lilies & Roses NY:
Lilies & Roses NY was created by Lilian Moura, who started with children's clothing, but later fell in love with accessories and all their possibilities.
100% Handmade in Brazil, using acrylic as our main material, we offer a selection of hair accessories and jewelry for kids of all ages. The unique, colorful line has cute, fun designs that include clips, headbands, rings, bracelets, and necklaces.
Launched in New York 15 years ago, Lilies & Roses NY has become a favorite stop for buyers at fashion trade shows and is now featured in many USA and global kids' boutiques.